I've been lurking here for a long time, asking questions here and there, but mainly absorbing all of the great information and making my way down track. I'm happy with where I've gotten, but as I draw closer to paint, I need some help. Please bear with me as this will be long...(and I'm using SPI exclusively, including base).
I am a rookie with body work and paint. I've got everything as straight as I believe I can get and I've been through several rounds of epoxy, filler, build primer, etc. on every panel. I am doing this in a climate controlled garage, but my spray booth consists of plastic sheeting hung from the ceiling and a box fan and few air filters to move some air.
Today I blocked out my hood (or bonnet, more properly) following build primer and am happy with how straight it is. However, I'm concerned for my sanding scratches. Until just today, I've done all of my blocking by hand because I was concerned on causing more harm than good with a powered tool (and a small car helps). But, due to my lack of experience, I'm afraid that I've left sanding scratches that will not be filled by paint. I understand that each successive round of sanding should remove the scratches from the previous until there are none. However, since I haven't developed a feel for when I should move to the next higher grit, I'm afraid I may have to go back. As I mentioned, today I used my 3M orbital sander (model 20325, 3/16" orbit) with 320-grit (after blocking by hand with 150 and 220 following build primer) and then moved to 400-grit. Bonnet is very smooth...but I can see scratches. I can't feel them with my bare hand (even closing my eyes), but I can see them. I guess my question is...should the panel
look
perfect as well as
feel
perfect? I'd really hate to think I'm all set and put base down and see those scratches staring up at me, laughing...
I was so happy with the orbital sander that I am considering the following: shoot the bonnet with 2 coats of full-strength epoxy (I have some minor bare metal spots), then follow that up with 2 coats of build primer. Then, since I've already blocked it and am happy with the straightness, go right to 220-grit on the orbital (or can I get away with 320-grit?) and work up to 400-grit. Then, hand wet in 600 as my final prep...then reduced epoxy and shoot base.
I've enclosed a few pics of the scratches, but they may be worthless to you...not sure if you can really use a picture to determine.
My next problem, considering I come through this, is applying the base coat / clear coat. The bonnet of a Spitfire, for those that don't know, is all one piece (last pic)...much like a Jag XKE, but with the added disadvantage that you can't take any of it apart. That makes it logistically difficult. My thought is that I get the underside of the bonnet all prepped, then shoot base and clear. Wait some amount of time until it's all cured, flip it and paint the outside in base and clear. My concerns for this would be how long to wait...the bonnet, while not heavy (I can pick it up by myself to move it around) would rest on a scissor rack during painting. I'd hate to destroy the inside paint because of putting weight on it before it was "ready". I'll accept any tape lines that I have because of doing it this way. My intention would be to get the bonnet 100% ready for base and clear, then shoot the inside, flip it, then the outside, masking to minimize visible tape lines as much as possible while preventing overspray.
Whew...sorry...I know that was a lot. I am starting to spin my wheels a bit on my path ahead and didn't want to make a mistake that would undo all of the work that I've done up to this point. You guys have always been great in answering all of my questions so far and I'm usually able to search for answers without asking...I know this is a big one, but it's unique and I appreciate all of you spending the time to read through and maybe provide some wisdom.
Thanks so much,
Chris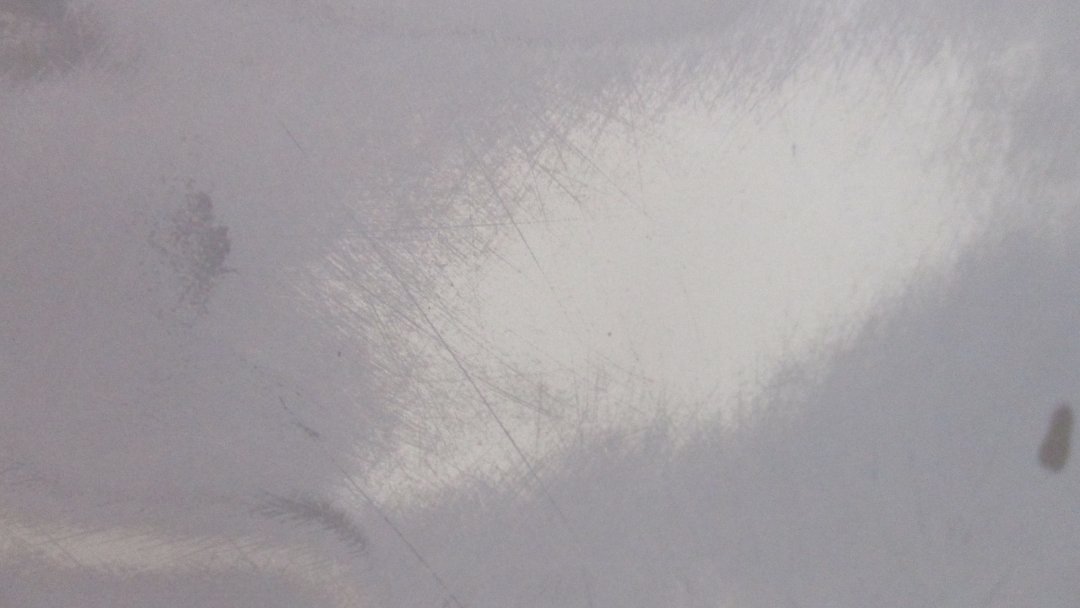 Close-up of some scratches. The dark spot on the left (about the size of a dime) is build primer, the lighter grey is the epoxy, and the white is some polyester filler. These are post-400-grit orbital sander scratches.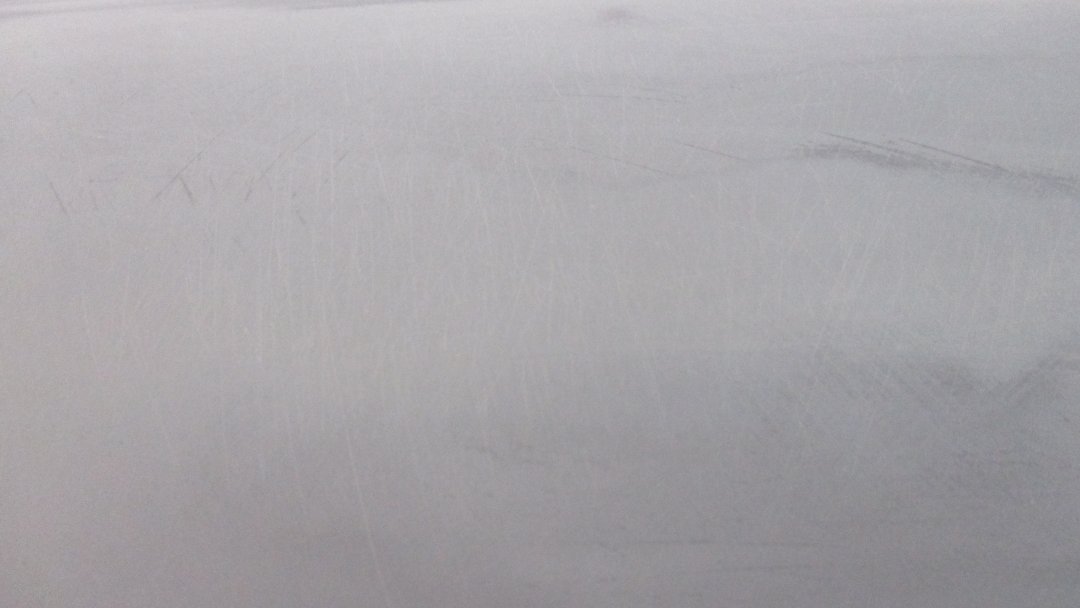 Some more scratches, about as close, scale-wise, as above. These are post-400-grit orbital sander scratches.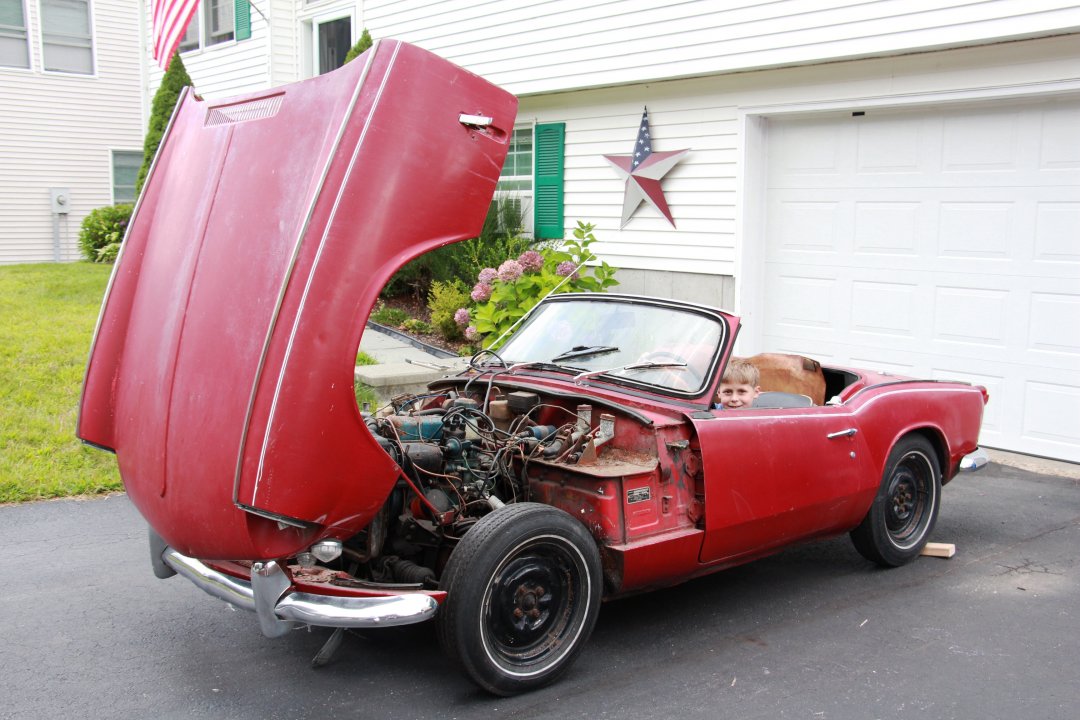 The car on the day I brought her home, August 23, 2014. My youngest in the driver's seat. You can see the bonnet design.
Last edited: