Hello,
I'm new to this forum. Being retired, I now have time to get back into a restoration that's been stalled for many years. The car is a 1973 Porsche 911 that been stripped to a bare shell. I plan to first work on the under body & epoxy prime as I go.
In November I created a test panel using various epoxies on a sheet of mild steel. (See below) Each 2"x2" section is separated by a band of bare metal. In each case I followed the manufacturer's instructions. The steel was cleaned & etched using DuPont M3 Cleaner & 224S Conditioner using a Red Scotchbrite pad. The paints, metal & room temperature were all above 70F. The SPI Epoxy was induced for 2 hours before spraying. The panel was "aged" indoors for two weeks before mounting on the front of my wife's car. The car is only driven intermittently but our conditions are severe with lots of rain, snow & salt.
The SPI Epoxy panels were added in December and are the two outer most vertical columns. Metal prep varies from top to bottom: the top row is bare metal, the second has Zinc primer & the bottom is PPG etch primer. Four different epoxies were sprayed on top of these coatings. Each test section was scratched with an "X" mark using a scribe to test how well the primers resist corrosion when damaged.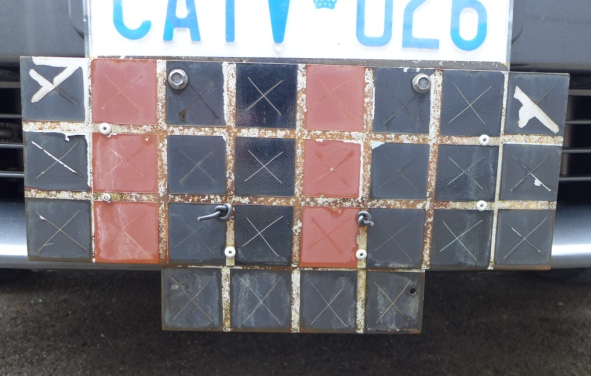 They all looked fine until the car was pressure rinsed at local facility a few days ago. The SPI Epoxy began lifting under the pressure washer. (See the top right & left panels) There was some lifting on a couple of the other sections. Can you suggest what may have caused this?
Any comments or pointers are welcomed,
Thanks,
Charles